As an author and educator, my goal is to write books that not only entertain but also create a desire to learn, stimulate intellectual curiosity, celebrate diversity, enhance strong character development, and start readers on a never-ending journey in their quest for knowledge. It is said that, "We spend our early years LEARNING TO READ, and our later years READING TO LEARN."  As such, I hope that my Tri-Lingual Alphabet Books—Dr. Little's Tri-Alphabets And More
 English· Español· Français [English, Spanish, and French Language Editions], have motivated those LEARNING TO READers to continue developing their foreign language skills.

MY MOONBEAM MEDAL WINNER AVAILABLE  NOW  IN English, Español AND Françai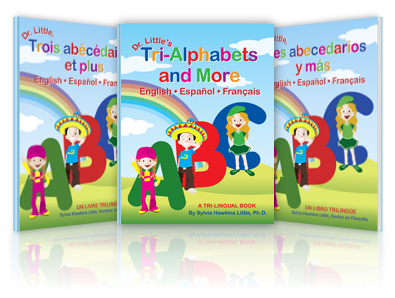 An "a, b, c" introduction to English, Spanish, and French. Readers will learn to identify familiar foods, animals and objects in all three languages. Knowing more than one language enriches vocabulary, improves academic performance, and enhances future work options.